We can provide a variety of services depending on your needs:
Backcountry Transport
- We have the ability to transport pretty much anything, to pretty much anywhere. If you need to get a heavy load of equipment or building supplies to a remote cabin or work-site, but don't want to pay for a helicopter, we can help. Or if it is winter time and you have more people or gear than you can carry on a snowmobile, our tracked Land Rover can take you there through the deepest powder. How about a comfortable, air-conditioned, 4WD ride (with DVD player) from the airport or the border to the mountains for your friends and family? No problem. We can carry up to 16 passengers at a time, with ALL their gear. That includes mountain bikes, etc.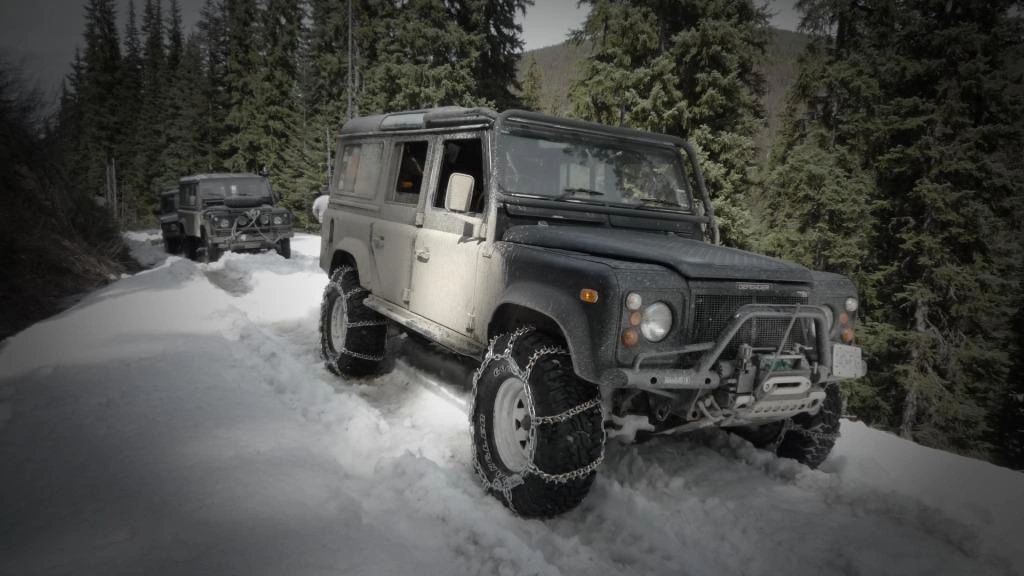 Recreational Access
- Do you love to Kayak, Canoe, Ski Tour, Snowshoe, Mountain Bike, or any of a hundred other backwoods activities? We can take you and your gear into some of the most scenic and remote spots in BC. We can drop you off in the deep snow in the alpine, and pick you up at the bottom, or follow you during the day if you have an equipment failure and need a ride. We can drop you and your paddling friends along any of your favorite rivers and collect you downstream to bring you back to your car or hotel. Or we can drop you and your mountain bikes at the top of any one of dozens of beautiful and remote mountains in BC and pick you up again at the bottom, so you can see more of the countryside in any given day.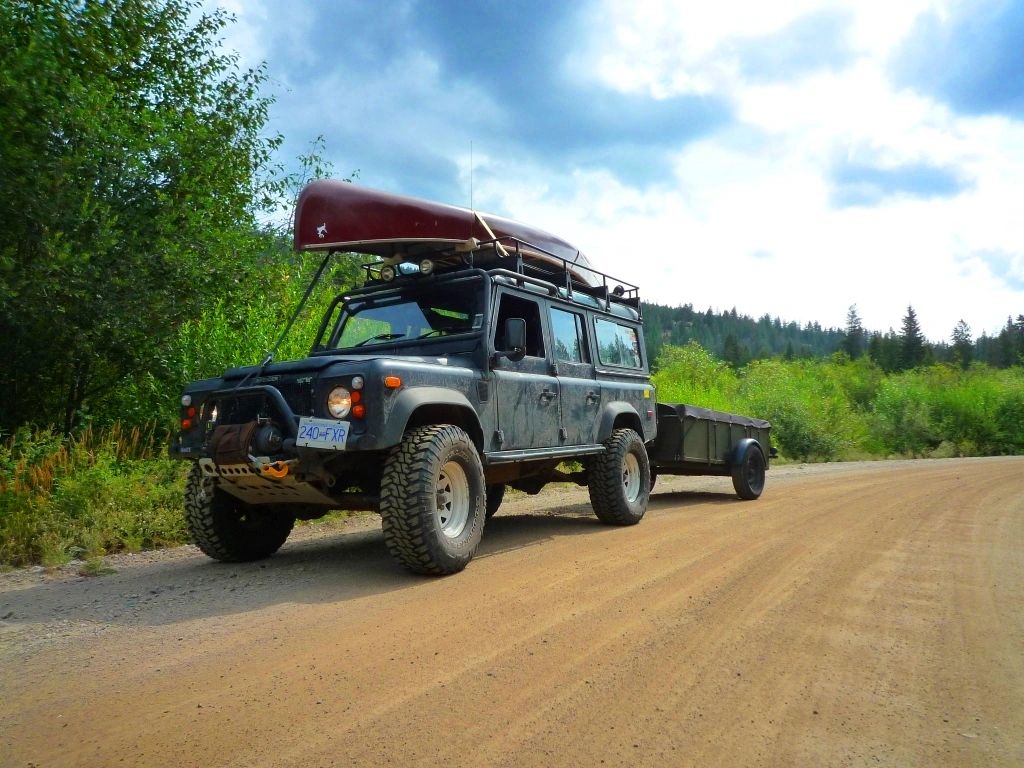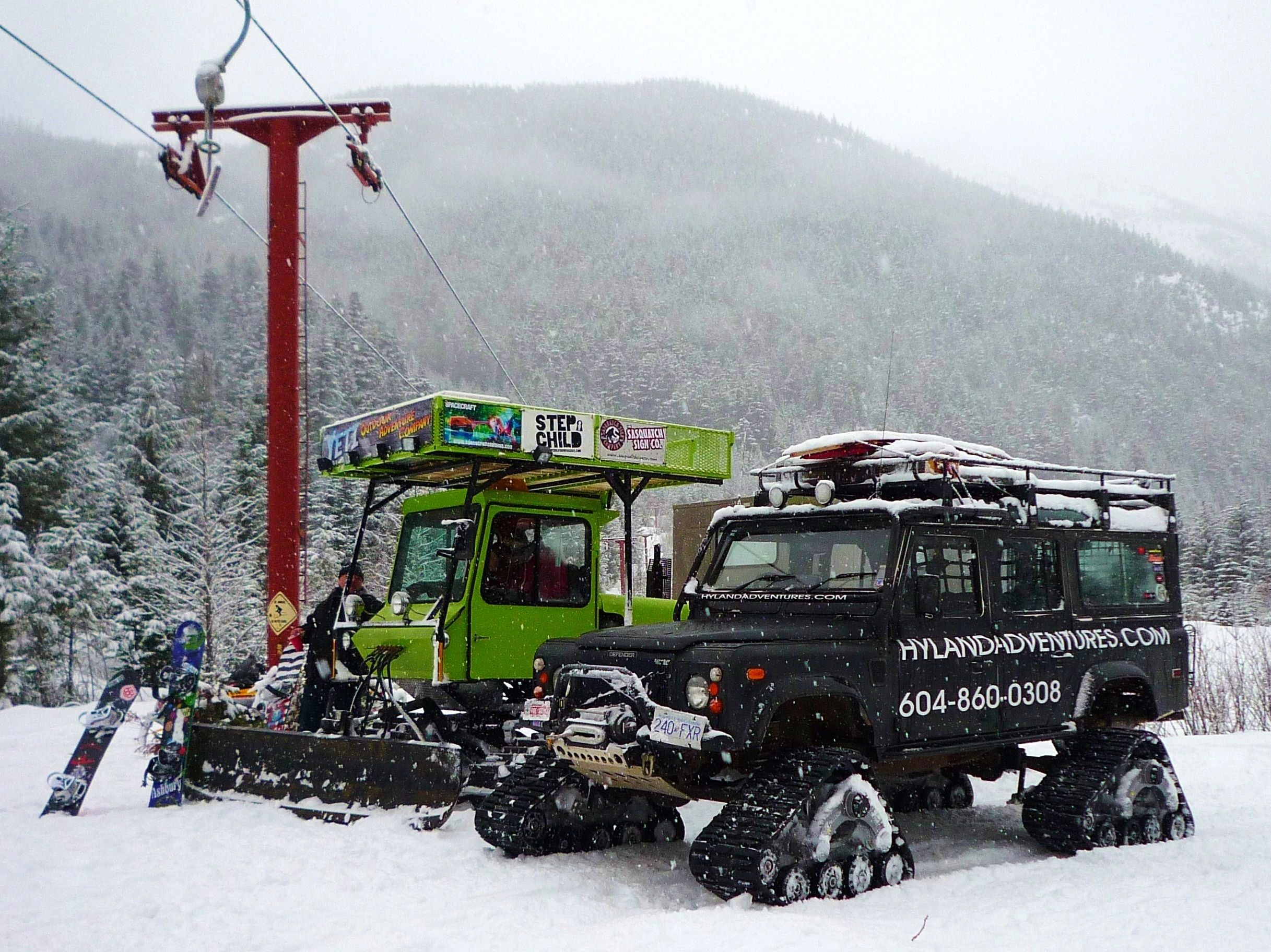 Vehicle Recovery
and Recovery Training
- Have you ever had a dirt bike, quad, or snowmobile break down in the backcountry? Or got your 4x4 so stuck that not even your friends can winch it out? With the cost of gear these days you don't want to leave it there very long. Instead of paying for a helicopter to recover your ride, give us a call. Our hydraulic recovery system can rescue people, equipment and vehicles from the tightest spots, the deepest bogs, and the steepest slopes. Our tracks allow us to "float" across terrain that would drown a truck on 44 inch tires. Plus we can help you with personal recovery training so you will have the confidence to get yourself out of the trickiest of spots, like in the picture below where Ray is showing how to rig a winch safety-line to enable a safe turn-around on a tilted slope of loose shale at 6000 feet on the mountainside.
Delicate Ecosystem Transport
- Do you need to get into an area with a delicate ecosystem? Checking a right-of-way in high mountain meadows? Or bringing lumber to a remote park location? Our rubber Mattrack system allows us to to leave virtually no trace of our passing. Even less trace than a hiker or a horse. This is because a normal truck on tires exerts up to 40psi of down pressure on the ground. And a human standing exerts about 6 to 8 psi. But the large surface area (26 sq feet) of our tracks exerts only 1.5psi of down pressure, eliminating ruts and surface damage.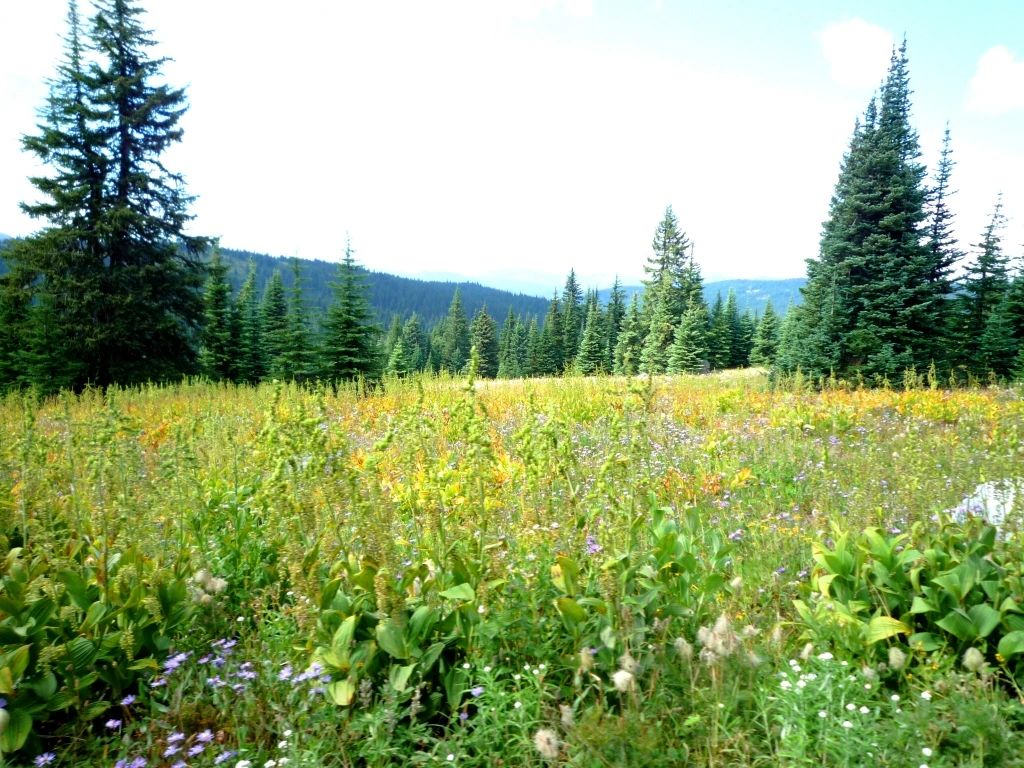 Backcountry Familiarization
- Being comfortable and secure in the backcountry is a skill that is learned like any other, through teaching and hands-on practice. But when you have a family depending on you, sometimes you don't want to completely learn as you go. That's where our guided family trips come in. Take your family out for a day or a weekend with us. We can organize trips of almost any size, and help ensure your experience is both fun and educational. With other kids along yours will have a great time. And with our knowledge and range of gear, you can see different equipment in the field before you take the plunge and buy your own.
Backcountry 4WD Adventures
- Whether you want to have us guide you in your own Jeep or Truck, or you want to ride along in one of ours, we can take you to some of the most scenic views on Earth, including travelling the famous Whipsaw Trail, rated one of the top 6 trails in all of North America in 2007 in BF Goodrich's Outstanding Trails program, the first Trail outside the USA to achieve this honor. We do 1, 2 or 3 day trips on the Whipsaw, so you can linger as long as you like in the meadows or take your time exploring the historic ruins along the way. Plus as members of UFWDA and Tread Lightly, we take our "leave no trace" policy seriously, and will advise on the least damaging way to travel in the wild, regardless if you are crossing a stream or building a fire.
Expedition Preparedness
- Whether you are driving across the Province or around the world, we can help; with advice as varied as gear and vehicle selection, to how to manage long periods of time with a family in an enclosed space.